We so often post dental-related news that sometimes we overlook all of the excitement going on in our own lives. So, I'm going to take some time to share a little of our own special news!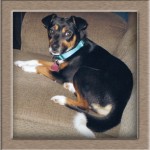 Katie, one of our dental assistants, has a new addition to her family. Her and her husband Brian adopted 1 year old Sammy, a Beagle-Jack Russel Terrier mix from the Wisconsin Humane Society. They are so excited to have her as part of their lives! We were lucky enough to meet her last Friday when Katie brought her to the office. She is such a sweet and loving little puppy!
 Cheryl and her husband Joe also have some very exciting news to share. They are expecting their first child together and found out today that it's a boy! Cheryl is almost halfway through her pregnancy and has been busy here at work and also at home, getting ready for the baby to arrive. We can't wait to meet him!
Nikki (that's me!) and her husband Nick put in an offer on their first house last month and it was approved! It's a foreclosure in Pewaukee so they are in for quite a bit of work but excited to "build" their dream  home together. Although to be real honest, Nikki is dreading long nights after work that she'll be spending peeling down wallpaper and gutting and redoing the kitchen before they move in!
And finally, Kathleen is leaving soon to go visit her daughter in France where she is currently studying abroad right outside of Paris. How exciting! Among their plans to visit Paris and the French countryside, they also intend on flying to Rome to see the Colosseum and as many other places as they can get to during the time they are there.
Keep checking back for more of our exciting news. Maybe Kathleen will even share some pictures from her trip that we can post!