Dental Implants – Brookfield, WI
A Tooth Replacement Unlike Any Other!
Tired of your denture always sliding around your mouth, making it difficult to eat and speak? Wish there was a better alternative to dental bridges? When it comes to tooth replacement, there is nothing that offers the quality of life and restorative properties quite like dental implants. Instead of having a restoration that sits on top, dental implants become part of your jaw's natural bone and tissue structure, providing you the most lifelike tooth replacement possible.
Benefits of Dental Implants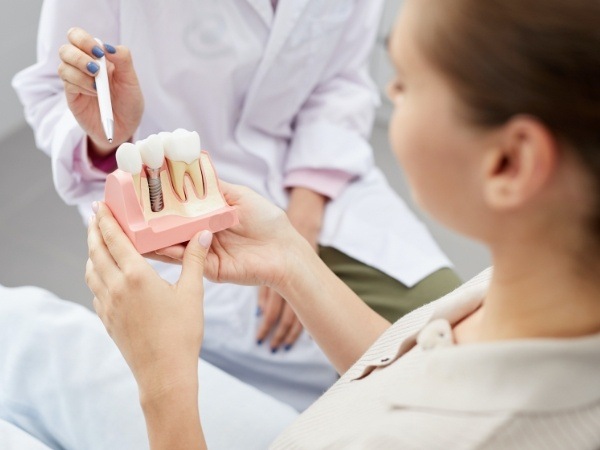 One of the biggest problems with tooth loss is the fact that the root is removed right along with the crown. This causes the jaw bone to shrink over time and prevents proper blood flow to the gums and cheeks. As a result, patients with missing teeth experience a reduced biting force and premature facial sagging. If you want to look your actual age and make chewing foods feel easy again, dental implants are the way to do it.
Furthermore, dental implants are longer lasting and more durable than any other tooth replacement option on the market, giving you the ability to perform everyday tasks with confidence for many decades to come. With a 98 percent success rate over a 10-year period, it's easy to understand why so many patients are excited to get started.
Indications for Dental Implants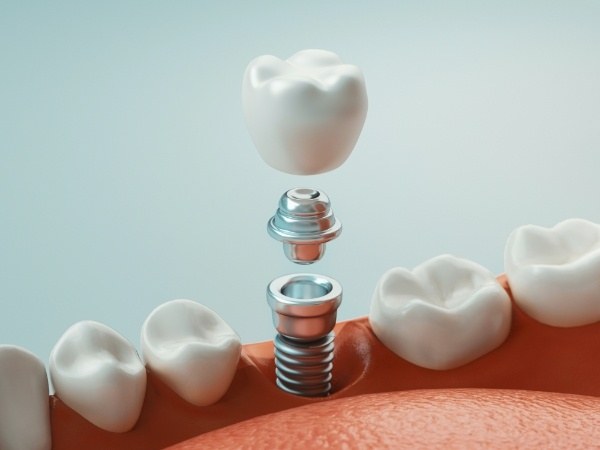 Whether it's one tooth or a mouthful, the dentists at Elmbrook Family Dental can replace a single tooth or an entire arch!
Missing Single Tooth
A single tooth uses only one implant and an implant-retained crown. For additional protection, the restoration is inorganic, meaning it cannot develop decay like natural enamel.
Learn More About Single Tooth Dental Implants
Missing Multiple Teeth
If you're missing multiple teeth in a row, a dental bridge can be fitted with implants to replace them all simultaneously. However, only two implants are needed to hold a restoration that replaces three or four teeth. To make this work, an implant is fitted on either side to act as an anchor, instead of using natural teeth like a traditional bridge.
Learn More About Implant-Supported Bridges
Missing All Your Teeth
To replace an entire arch of teeth, an implant-retained denture can fit your needs. Luckily, this option only requires four to six implants to replace the arch as opposed to many more, helping you reduce cost and surgery time. Of course, All-On-4 dentures, also known as Teeth-in-a-Day, can replace your teeth all in one well-planned appointment.
Learn more about Implant-Retained Dentures
Understanding the Cost of Dental Implants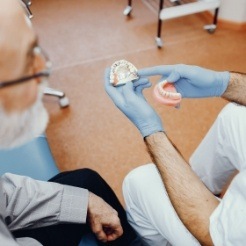 While the total cost of dental implants can vary from patient to patient, there are many ways to determine how much you'll pay. You'll need to consider the number of implants you intend on getting, the abutments and restorations used on top of the implants, and if you'll need preparatory treatments to make implants viable. Therefore, a single implant is always going to be cheaper than a 3-unit bridge because of the number of materials used. Regardless of the final cost, dental implants are often regarded as the most cost-effective solution because of their longevity and durability, especially when compared to other options. Traditional bridges need replacing after a decade or so, while dentures not only need to be relined and repaired every three to four years, but completely replaced every five to seven years.
Learn More About The Cost Of Dental Implants
Dental implants are considered a long-term investment that, when taking proper at-home oral care into account, should last several decades. If you're ready to transform your smile for life, schedule a consultation with our office today!
Dental Implant Aftercare
When having dental implants in Brookfield placed, you're probably quite excited about your new restoration and the fully restored smile you'll have when it's all said and done. But what do you know about taking care of your implant, so it stays healthy and strong for years to come? Luckily, our dentists can equip you with the information you need to extend the life of your implants.