Dental Implants Can Replace Brookfield Teeth
If you need one or many replacement teeth, or if you wear dentures and would like to throw away your adhesives, consider dental implants. Dr. Brunner, Dr. Taibl, Dr. Tack, and Dr. McGinn work with an oral surgeon or periodontist to make dental implant placement and restoration as convenient as possible.
How do we place a dental implant?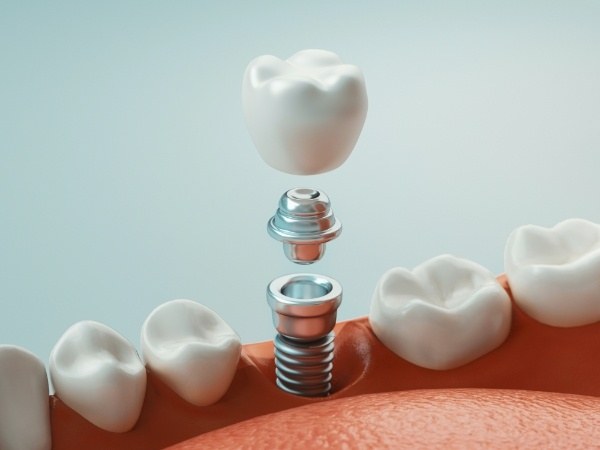 A dental implant consists of two parts: the post and the restoration. Your trusted family dentist will oversee the oral surgery part of the process, working closely with a trusted oral surgeon or periodontist to make sure that your implant posts are placed correctly. The posts, made of biocompatible titanium, will be accepted by natural bone tissue to create a solid foundation, much like a natural tooth's root. After the implant posts are secure, your dentist at Elmbrook Family Dental will attach a finished restoration or prosthetic unit (bridge, partial, or denture) to them in our Brookfield dental office.
Implant-Retained Crowns & Bridges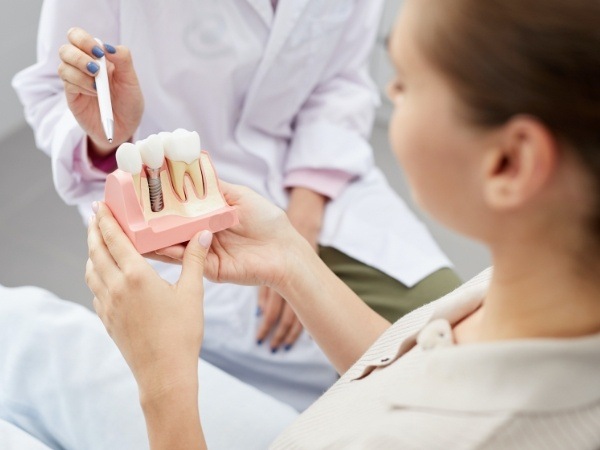 Dental implants can be used to support a variety of dental restorations, including both crowns and bridges. With an implant-retained crown, an all-porcelain crown will be attached directly to an implant using a metal connector called an abutment. Once this is done, the new tooth will be virtually indistinguishable from the others. We'll color match it to blend with your smile, and the porcelain material will make sure it's just as strong and durable as your other teeth.
In the case of multiple missing teeth in a row, two of these implant crowns can be placed on either side of the gap in a person's smile to create a bridge. The crowns will be bonded to additional prosthetic teeth to close the space. This will not only restore a person's appearance, but it will also even out the bite as well as prevent the remaining teeth from shifting out of place.
Implant-Retained Dentures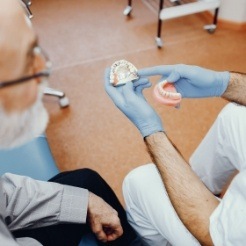 Many denture wearers have to deal with a prosthetic that constantly slips and slides around their mouth and can't be trusted to stay in place. However, thanks to dental implants, more and more patients are now able to have a set of teeth they can trust.
With implant-retained dentures, a custom-made prosthetic is fitted onto multiple implants placed within a person's mouth. This method of retention has numerous advantages compared to traditional removable dentures, including:
More Secure Hold: The implants make it so the denture is held in place by the jawbone just like natural teeth, creating a stable fit that regular dentures simply can't match.
Consistency: Most traditional dentures lose their fit after just a couple of years, but implant-retained dentures are able to maintain theirs for much longer thanks to the implants supporting the jawbone from within, preventing the bone loss that is so common after tooth loss.
Stronger Bite: Implant-retained dentures give a patient a much stronger bite compared to regular ones, enabling them to enjoy a more varied and healthy diet with ease.
All-on-4 / Teeth-in-a-Day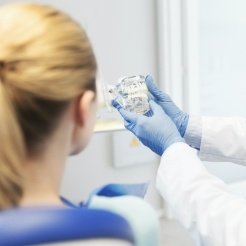 This procedure allows our team to restore an entire row of missing teeth with an implant-retained bridge in just one well-planned appointment. After a few pre-treatment appointments, four implants will be placed into a patient's mouth, and these will be used to secure a bridge that we will attach to them that same day. With this treatment, a patient can literally wake up that morning with an incomplete smile and go to bed that night with a full set of teeth.