Dentures – Brookfield, WI
Get Your Bite & Confidence Back
If you have lost most or all of your natural teeth from periodontal disease, tooth decay, or injury, dentures can reliably replace your missing teeth and complete your smile. Replacing missing teeth will benefit your appearance and health at the same time. Without a full set of teeth, facial muscles sag, which makes you look older than you should. Dentures from our Brookfield, WI dentist will also allow you to eat and speak comfortably again - things that people often take for granted until they lose their teeth. Call us today to schedule an appointment.
Why Choose Elmbrook Family Dental for Dentures?
Removable & Implant Dentures Available
Customized, High-Quality Prosthetics
Compassionate & Experienced Dental Team
Who is a Good Candidate for Dentures?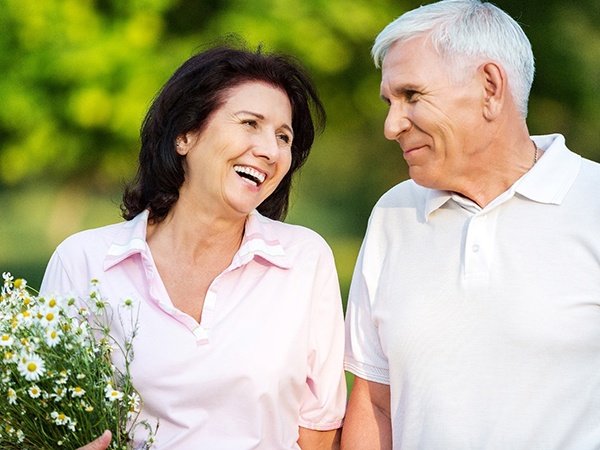 When meeting with your denture dentist in Brookfield, you can expect to undergo a thorough evaluation of your smile. It's also imperative that we discuss your oral and overall health history and look at the stability and density of your jawbone.
If we find that you are experiencing problems with gum disease or tooth decay, these issues will need to be addressed before you can move forward with dentures. Also, we may find that bone grafting is also essential, especially if you are considering implant dentures.
The good news is that no matter how many teeth you are missing, we have a solution that will help you to see a new and complete smile that not only looks great but works normally as well.
Types of Dentures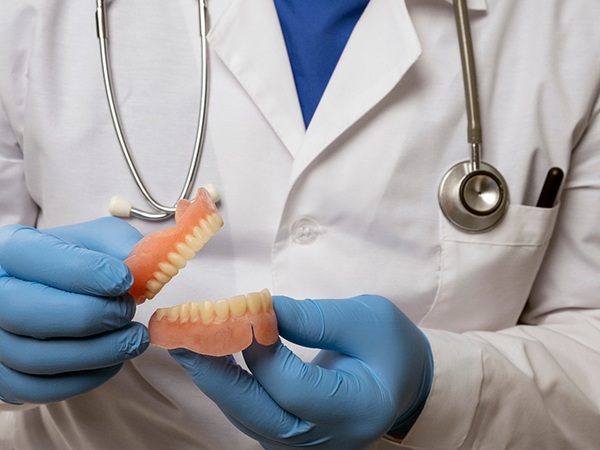 At Elmbrook Family Dental, we are pleased to provide you with three different options for tooth replacement depending on the number of teeth you are missing:
Partial Dentures
Using an acrylic base, artificial teeth, and metal clasps or clips, a partial denture can be used to rebuild a smile plagued with one or more missing teeth in a row. Whether they are next to each other or dispersed among the arch, a partial denture can fit into place, eliminating the gaps and improving the beauty, health, and use of your smile.
Full Dentures
Missing all your natural teeth can be fixed with the help of full dentures. Designed to be used on the top or lower arch of teeth, these prosthetics have an acrylic base with artificial teeth that work to rebuild your smile. Held into place with natural suction and denture adhesives (if preferred), you can expect to eat, smile, and speak without much difficulty once you are fully adjusted.
Implant Dentures
As a permanent form of tooth replacement, implant dentures are a great way to recapture your smile and confidence. Not only are these teeth made out of titanium and fuse with the bone, but they do not require replacements or adjustments over time. There are many cases of patients living the rest of their lives with dental implants, never needing to have them replaced. By securing a custom denture on top of the implant posts, you can enjoy greater peace of mind and overall health.
How Dentures Are Made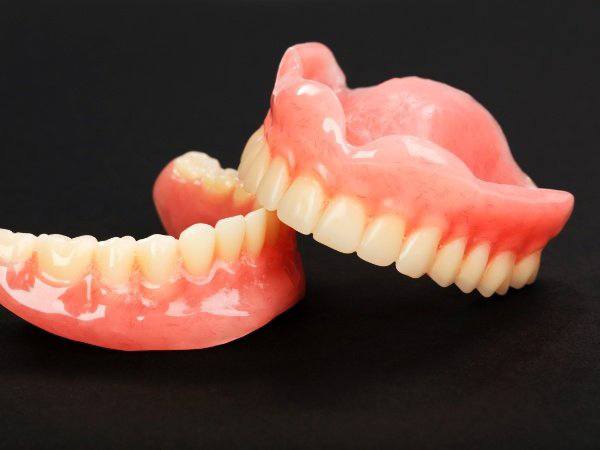 Many styles and types of dentures are available today, and our dental lab uses modern esthetic materials to create the most lifelike prosthetics. Our dentists will take the time to talk with you about your concerns regarding smile restoration with partial or full dentures. We will make your experience as convenient and hassle-free as possible. However, sometimes, getting the best fit requires a few adjustment visits to our Brookfield dental office.
Benefits of Dentures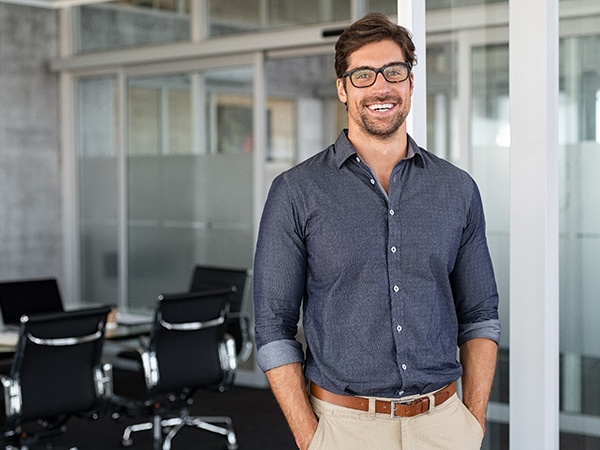 Dentures deliver a new way to enjoy life – one that you might have been missing out on for many years. Being able to eat the foods you love, speak without slurring your speech, and smile with your mouth open wide can be a freeing feeling. But these are not the only great benefits you can expect. Dentures also:
Continue to stimulate the jawbone so that you're less likely to experience facial sagging (implant dentures)
Enjoy new teeth that will remain in place for a decade or longer (traditional dentures), or dentures that can last 30+ years (implant dentures)
The opportunity to embrace better oral and overall health and hygiene because you'll want to take better care of your smile