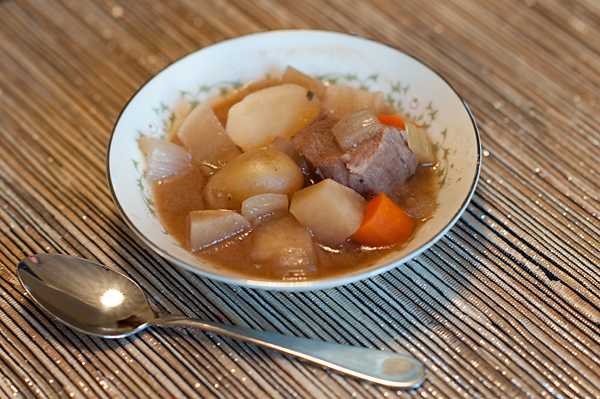 This recipe comes straight from my kitchen. I feel like I finally perfected beef stew and I'm ready to share it with the world. The ingredients may seem a little strange, but believe me, they all work very well together. Make this instead of the same old corned beef and cabbage on St. Patrick's day this year!
2lbs beef stew meat
2 cups of carrots, sliced thick (or baby carrots)
1lb small red or yellow potatoes, cut into halves or quarters
1 large onion, diced
1 large stalk of celery, sliced
1 packet of Hidden Valley Ranch dressing
1 packet of Lipton Onion Soup mix
1 packet of McCormick Brown Gravy mix
1 can of cream of mushroom soup
water
Directions:
1. Throw everything in the crock pot, then add the water until the vegetables are just barely covered. Stir.
2. Turn on low for eight hours.
3. Serve with warm, crusty bread.
A few things…if you like a thicker broth, I'd add an extra can of cream of mushroom or use the large size can. You can also add any vegetables you like. I added turnips to mine, which are visible in the picture, although it turns out that I like them less than I thought I did.