While the detrimental effects of eating disorders on the human body are very well documented, it is often overlooked that bulimia can also have a serious effect on dental health, and it can happen quickly, within a matter of months. Bulimia nervosa is a physical and psychological disease which involves discrete periods of overeating (binge eating) which may occur several times a week or at its most severe, several times a day. During the binge, sufferers may feel completely out of control. They may gulp down thousands of calories often high in carbohydrates and fat. The amount of food consumed would be considered excessive in normal circumstances. After the binge comes purging designed to compensate for overeating and to avoid weight gain. Those behaviors may include self-induced vomiting, misuse of laxatives, enemas, and diuretics. Studies have found that up to 89% of bulimic patients show signs of tooth erosion. (ADA.org) The information contained within this blog post is intended to not only help suffers from this disease, but also anyone with a history of recurrent vomiting whether it be from pregnancy, acid erosion from GERD, or cyclic vomiting syndrome. If you suffer from any of these, please do not be afraid to speak with your dentist about it. Your health history will remain confidential and we will help devise a plan to save your teeth.
Stomach acid is highly corrosive on teeth and prolonged exposure can cause enamel breakdown and will eventually lead to tooth loss.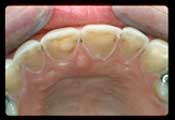 An example of lingual erosion of tooth enamel due to excessive vomiting
Image from ADA.org
You may be tempted to brush your teeth immediately after a vomiting episode but please wait; the abrasiveness of toothpaste can only assist in the weakening of tooth structure. Instead, rinse with plenty of water. Baking soda can also be added to water for rinsing to help neutralize the effects of stomach acid.
Other things that may help:
Chew sugar free gum. Sugar free gum helps stimulate saliva production, which helps protect the teeth.
Brush with a high fluoride toothpaste. Your dentist can prescribe a highly concentrated fluoride toothpaste. Fluoride will help decrease sensitivity, strengthens teeth, and helps reduce enamel erosion.
See your dentist regularly. Please do not feel too ashamed to call. We will work with you to find a plan to save your teeth, repair any that are damaged, and prevent further damage. Call our Brookfield, Wisconsin office at 262-784-7201 today.