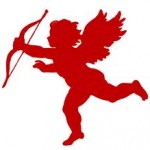 This week we celebrate Valentines Day. What better thing to celebrate than LOVE? Here are some fun ways to celebrate that do not include splurging on a dozen long stem roses and steak dinner for two.
Visit the Domes for the Music Under Glass series. On Thursday, February 14th at 6:30pm, listen to some great Jazz music and take some Valentine photos with your honey.
Cook dinner together at home! Look up a fun recipe online, put your aprons on and cook together. Enjoy the food by candle light.
Take a tour of the Palermos Pizza Factory. For $9.25, you can take the tour, enjoy a hot slice of pizza, soft-drink, and also receive a t-shirt. Tours are Monday-Friday and they advise you call ahead.
Enjoy dinner and a movie at the Majestic in Brookfield, or the Fox Bay theater in Milwaukee. Get served your meal while enjoying a show on the big screen.
Whatever you decide to do, make it thoughtful and have fun! Happy Valentines day.