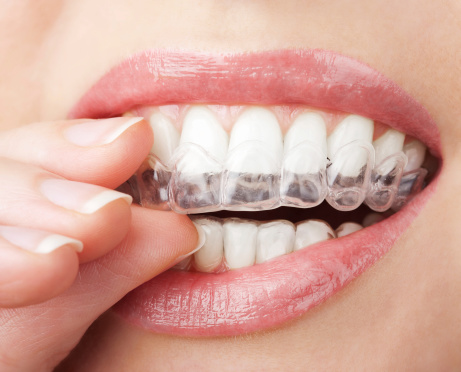 Having a beautiful, straight smile is something that many people strive for, and they are willing to go to great lengths in order to achieve it. If you have always wanted a straight smile but have been deterred because of the idea of having a mouth full of metal, you may be living with a smile that you are merely settling for. If you have a smile that is misaligned or gapped, you may feel as though you will not be able to achieve the smile of your dreams while still being able to look like your natural self. If you feel as though that is the case, you no longer need to worry. Our doctors are able to align your smile with absolute ease by offering Invisalign to their patients.
One of the amazing things about Invisalign is the fact you are able to gently straighten your smile without being obvious about your treatment. When you come in for your appointment, our doctors will be able to sit down and discuss your wants and needs, deciding whether or not Invisalign is right for you. They will take impressions of your smile, and send them to a dental lab to have your aligning trays made. Each tray is custom made just for you, and each one signifies a new stage in your straightening process. By having the trays made just for you, this ensures amazing results and a personalized treatment. The trays sit nearly invisibly on your smile, so you are able to smile and communicate with confidence! All you have to do is wear each tray for a certain amount of time, and when you are ready to begin the next phase of your straightening process, simply remove the aligner you are wearing and apply the next one in the set! If you would like our doctors to help you straighten your smile using Invisalign, contact our office, and we would love to help!
Elmbrook Family Dental is committed to providing state-of-the art dental care for you and your family from our Brookfield, WI dental office. We are able to take care of whatever cosmetic, restorative, and preventative dentistry needs you may have. We proudly serve patients from Brookfield, Elm Grove, Milwaukee, Pewaukee, Waukesha, and New Berlin. Call us today to learn more or schedule your next appointment.