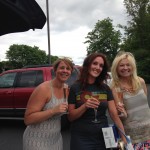 This month we celebrated Dr Tack's birthday. Of course we did the obvious and brought some fantastic food into the office. We can never pass up an excuse to bring in some veggies and dip… and other not so healthy snacks!
Dr Tack celebrated with two of her closes friends the day before her birthday. They surprised her and took her for a special dinner at Artisan 179 in Pewaukee.  On her birthday, her good friend Tara surprised her with flowers and special treats.
Happy birthday Dr Tack . We are thankful to have you on our team and so glad we could help you celebrate!