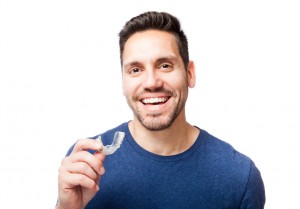 Now that we're now solidly into the first month of 2016, we want to ask how you're doing on those new year's resolutions. We know in our last post we asked you to consider brushing and flossing more… but what about your smile's appearance? We want you to consider that, too. The team at Elmbrook Family Dental wants you to know we're your cosmetic dentists in Brookfield, WI, too. Keep reading to learn more about the services we provide, and make this the year you finally do something about your smile!
Get to know your cosmetic dentist in Brookfield, WI
If you've ever noticed any of your peers enjoying a bright, confident smile and wondered just what their secret is, we'll tell you — it's probably cosmetic dentistry. An affordable, effective solution to a number of dental problems, this branch of the practice can work wonders for a person's appearance and self-confidence.
Elmbrook Family Dentistry is proud to offer a number of cosmetic services to help create our patients' best smiles. Below are three of the most popular.
Porcelain Veneers
One of the most accessible and transformative treatments available today has got to be porcelain veneers. These thin caps of porcelain completely cover chipped, cracked, misaligned, stained or discolored teeth — instantly enhancing their overall appearance. Usually completed in two to three visits to Elmbrook Family Dentistry, patients who have chosen this treatment option agree it's well worth the investment.
Teeth Whitening
If you'd like a cosmetic treatment that's a touch more conservative than porcelain veneers, you'll be excited to know about teeth whitening in our Brookfield office. We offer in-office and at-home treatments with Kör Deep Bleaching and Zoom! Whitening, so you can whiten at the pace you're comfortable with. Click here to see a few of the dramatic transformations we've produced in our office.
Invisalign Clear Braces
You don't have to wear metal braces for straighter teeth anymore. With Invisalign, or clear braces for adults and teens, you can achieve the same great results faster, and without anyone ever realizing you're undergoing orthodontic treatment! Invisalign is the convenient, discreet alternative to conventional braces.
Transform your life with cosmetic dentistry in 2016
This year, do something for yourself — find out which cosmetic treatments could benefit your smile the most. Call or email Elmbrook Family Dental to book your appointment today! Dr. Brunner, Dr. Taibl, Dr. Tack and the whole team are here to help you and your loved ones enjoy healthy, beautiful smiles today, and for years to come.