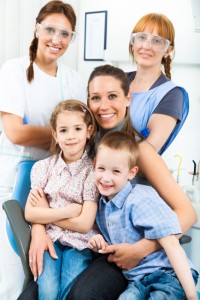 Elmbrook Family Dental believes in the importance of family, which is why we treat all of our patients like our own family. As part of our family, we are excited to announce the addition of three babies into the Elmbrook family. While our family continues to grow, we would like to help care for your family as it grows. As a leading family density in Brookfield WI, we provide the comprehensive dental care your family needs. With a mission to enhance lives with beautiful smiles, we're here to treat your family like ours.

Welcome to Our Family
Elmbrook Family Dental caters to families in Elmbrook through our family-friendly services for busy families on the go. Our welcoming office and experienced dental staff focus on combining comfort with quality care because we genuinely care about you and your family.
We know that families require a wide range of dental services, which is why we cater our services to provide dental care for each member of your family– no matter their age. With your entire family's dental needs met at one location, all of their records will be kept in one spot. Not to mention, you're able to schedule multiple appointments in one day, allowing everyone to be seen at once to save valuable time. We are even open early in the morning and evening to accommodate your already busy schedule.
With over 20 years of experience in family dentistry, Dr. Taibl, Dr. Brunner, and Dr. Tack deliver the dental services your family needs in a gentle manner.
Family Dental Services
Elmbrook Family Dental offers comprehensive dental care to allow your family to have amazing smiles for a lifetime. We use the latest technologies, clinical findings, and advancements in dentistry to apply the most innovative care to our patients. We believe in using modern dental medicine to provide unmatched care and comfort for every member of your family. We are specially trained to keep your family's smiles healthy and beautiful with a lifetime of care.
Elmbrook Family Dental is pleased to offer our patients:
Preventative Dentistry
Orthodontics
Restorative Dentistry
Cosmetic Dentistry
Tooth Replacement Procedures
To make dental care more enjoyable and effective, we use hi-tech to provide a rewarding dental experience. The technological advances we offer allow for soft-tissue lasers and pain-free dentistry to maximize your comfort, even for the smallest members of the family. Our advanced technologies for dental care include:
Spectra (Digital photography cavity detection)
Soft-tissue lasers
NTI-tss (headache relief)
STA (pain-free anesthesia)
Elmbrook Family Dentistry
Our extensive services allow us to provide the truly comprehensive services your family needs because, sometimes, checkups aren't enough. We provide customized options for each member of your family–no matter their unique dental needs. Our focus on quality and family set us apart from other dentists in the area. Choose a dentist who cares about your family as much as you.
From our family to yours, find something to smile about with Elmbrook Family Dental. Let us care for your family's dental needs. Schedule an appointment today!