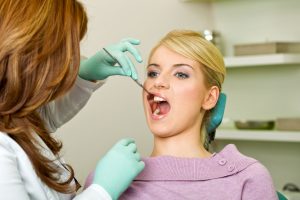 Dr. Brandon A Brunner, Brookfield, WI dentist, and his associate dentists at Elmbrook Family Dental, teach patients all about tooth decay. Learn how a tooth develops a cavity, and what you can do to prevent this very common oral health problem.
An explanation of tooth decay
The American Academy of General Dentistry states that dental decay affects almost all people at some point in their lives. What is it? Dental decay, or a cavity, is basically a hole in the hard outer layer of tooth structure called enamel. Left to progress, dental decay advances into the inner layer called dentin and even to the inner soft pulp.
Cavities start with the corrosive action of acids secreted by oral bacteria known as Streptococcus mutans. Found in everyone's mouth, this bacteria loves living in and feeding on the sugars and carbohydrates we eat.  Food residues cause the build-up of soft plaque  and eventually, hard tartar on and between teeth. Streptococcus mutans in this biofilm secretes acid which erodes tooth enamel. Thus, cavities form.
Preventing tooth decay
Your Brookfield, WI dentists practice diligent preventive dentistry. In the Elmbrook Family Dental office, this means oral examinations, x-rays (if needed) and professional cleanings. Dr. Brunner and the other dentists look for signs of decay and gum disease and also check for the condition of gums, bite and existing restorations, a common site for additional decay. Elmbrook Family Dental is proud to feature Spectra fluorescence technology to detect hidden decay.  An oral cancer screening rounds out  the dental check-up.
The dentist may recommend plastic sealants for back molars. This long-lasting protective coating is quick and easy to apply and lasts for years. Additionally, in-office fluoride treatments confer anti-cavity protection and even help re-mineralize enamel at the very first signs of decay.
The dental hygienist removes plaque and tartar that at-home brushing and flossing miss. She scales tooth surfaces with manual and ultrasonic instruments to ensure clean enamel and roots. She also teaches proper brushing and flossing techniques for at home and may recommend special anti-cavity toothpastes or rinses as necessary.
The American Dental Association advises twice daily brushing for 2 minutes. Kids and adults alike should use a soft brush and fluoride toothpaste. It also advises daily flossing with the flossing product of your choice–waxed, flavored, interdental picks, y-shaped flossers. The key is consistent flossing to remove plaque, avoiding decay and gum disease.
Treating tooth decay
The dentists at Elmbrook Family Dental recommend tooth-colored fillings made of innovative composite resin. Bonded right to tooth structure for a strong, long-lasting restoration, composite resin looks natural and has none of the worries and aesthetic problems of amalgam filling material.
Additionally, your Brookfield, WI dentists use porcelain crowns and root canal therapy to restore teeth with very advanced decay, abscess or enamel damaged by accident. These caring professionals do all they can to save natural tooth structure as the best option for a healthy, attractive smile.
Time for your check-up?
Why not contact Elmbrook Family Dental today to schedule it? When you partner with us, you can avoid tooth decay, gum disease and other oral health threats. You can achieve your best smile!