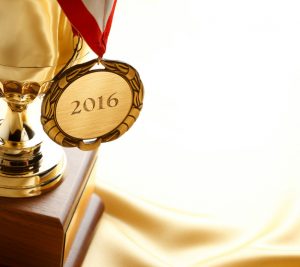 One of the main goals of any dental practice is to distinguish themselves. When they do it correctly, their special service is often recognized, which is why Elmbrook Family Dental was recently voted the Best Dental Office of Greater Milwaukee 2016 by the Milwaukee Journal Sentinel. What made your Brookfield dentist stand out from the rest?
Comprehensive Services
You and your family are going to have a lot of different dental needs, especially as the years go by. You want a dental practice that can take care of all of them under one roof. Whether you need a simple check-up and cleaning, need a tooth replaced, or simply want your smile to look its best, we have you completely covered.
Convenience
A dental practice does you no good if it's not in your area or is only open when you're busy.
We're located right next to the Brookfield Square Mall and I-94, making us easy to find and located near the places you already need to go to.
We make our schedule work for you, not the other way around. We open at 7:00AM on Monday-Wednesday and Fridays, with a 7:30AM start time on Thursdays. To make our hours even more accommodating, we stay open until 7PM on Tuesday and Wednesday. You can get our full hours on our website.
We Will Take Your Insurance
We are in-network for most dental insurance providers, and will always work with you so that you can get the most out of your benefits.
Highly Rated
We always encourage our patients to share their experience at Elmbrook Family Dental with the world. Whenever you visit us, you'll see why so many people have taken time out of their day to give us 5-star reviews on Facebook, Google, Yelp, and Rate A Biz. We even have a referral program: every patient who refers a friend or family member to us receives a gift card to a local restaurant or business.
Cutting-Edge Technology
We only use low radiation digital x-rays to help us create your customized treatment plan. We also use intraoral cameras, which is a small hand-held device that can take images and display them on a chairside screen. This allows patients to get a "dentist's eye view" of their mouth, and helps them understand what their doctor is seeing during their appointment. This leads to a better understanding of the dental care they are receiving, which also provides peace of mind.
A Welcoming Environment
Patients should feel welcome and comfortable as soon as they walk in the door, which is why we offer a variety of amenities to help improve their time with us:
Free Wi-Fi
TVs in all treatment rooms
Warm neck pillows and massage chairs during appointments
To make sure you have a smile when you leave us, we even provide Free Culver's milkshakes after every dental appointment.
Only Here
While many dental practices can offer you some of these elements, only Elmbrook Family Dental can guarantee you all of them whenever you come see us. You'll experience quality, convenience, and comfort with each visit. We pride ourselves on our service, and we're happy to be recognized for our hard work.
If you'd like to know more about what we can do for your smile or want to make an appointment, please call us today.