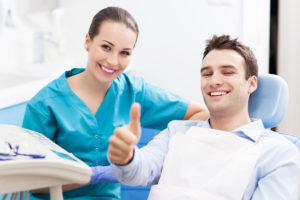 This month is designated oral cancer awareness month. During the month of April, we encourage patients to receive oral cancer screenings and let others know about the necessity for these quick, comfortable examinations. Most dentists are happy to offer oral cancer screening as part of biannual preventive dentistry exams. When you receive regular screenings for oral cancer, you significantly reduce your risk for death from this disease by increasing your chances for early diagnosis. This April, visit your local, Brookfield dentist and team for oral cancer screenings.

Why Oral Cancer Screenings are So Important
According to research studies conducted by the Oral Cancer Foundation, early diagnosis is the best way to reduce the number of annual deaths associated with oral cancer. Years of research studies have indicated that a high percentage of annual deaths from oral cancer occur in patients who were diagnosed in the later stages of the disease. While many patients assume that only those who use tobacco should receive regular oral cancer screenings, more than 25% of those diagnosed don't engage in any of the high risk behaviors associated with this disease. For these reasons, receiving consistent screenings for oral cancer is essential.
How Oral Cancer Screenings are Performed
Regular oral cancer screenings from your dentist are so quick and painless you probably don't even notice when they happen. The dentist will simply examine your oral and facial structures for warning signs of this disease, including:
Changes in the color or texture of soft tissue
Hard lumps or bumps in the soft tissue
Sores that don't heal
Hardening or inflammation in the lymph nodes
Sore throat or hoarse voice
Difficulty swallowing
If you notice any of these warning signs of oral cancer, you should let your dentist or a medical doctor know right away. The sooner we complete biopsy and provide diagnosis; the better.
Meet the Elmbrook Family Dental Team
At Elmbrook Family Dental, we are dedicated to helping patients of all ages lead healthier, happier lives. Every April and all year round, we are proud to provide education to raise awareness about oral cancer, and we encourage patients to receive screenings for this disease during every dental exam. If you're looking for a Brookfield dentistry team who can help you with your oral health and hygiene routine and provide comprehensive preventive, restorative, and cosmetic dental care, look no further. Call Elmbrook Family dental to schedule an appointment with us today. We look forward to seeing your smile.