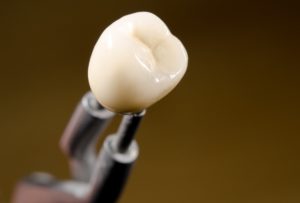 If your dentist has recently recommended you receive dental crowns in Brookfield, it is natural to assume you will also need root canals because the two often go hand-in-hand. While they are often used together, you do not always need a root canal when receiving a crown. After evaluating your oral health, your dentist will determine if you need one or both treatments.

What is a Dental Crown?
A dental crown is a custom-made cap placed over a tooth to provide an added layer of protection while also improving its strength, size, shape, and color. Your dentist in Brookfield most often uses crowns in restorative dentistry to repair a tooth that has significant decay, a break, or a fracture. It is not uncommon for one to be used in combination with other treatments as well, such as a bridge or root canal.
Due to their versatility, crowns can also be used in preventive dentistry, such as to protect a weakened tooth from breaking. All-ceramic materials now allow them to hold a commonplace in cosmetic dentistry as well to cover discolored or abnormally shaped teeth.
What is a Root Canal?
A root canal in Brookfield is recommended when a tooth is infected or has decay that extends to the roots of the teeth. The treatment involves removing the areas of damage and extracting the inner layer of the tooth, called the pulp. Your tooth is sterilized before it is sealed with a material called gutta-percha. To restore the tooth's function and appearance, a dental crown is often placed over it.
Do I Need a Root Canal?
There are times when a crown is used without a root canal, such as to treat large cavities. If the cavity is extensive, a traditional filling will not be adequate because there is not enough of your tooth's structure remaining. As a result, it has a heightened risk of breaking. A crown is placed over it to give it an added layer of protection. In addition, crowns used for preventive or cosmetic reasons often do not require a root canal.
You may need a root canal if your tooth has significant decay, infection, a large break, or if you experience:
Darkening of the tooth.
Lingering sensitivity to hot or cold foods and drinks.
Pain when placing pressure on the tooth.
An abscess on the gum near the tooth.
Your dentist will only recommend a root canal when there are no other viable treatments to save your tooth from an extraction. If one is needed, they will reinstate the function and appearance of your tooth with a custom-made crown.
Save Your Smile Today!
Dental crowns and root canals can save your smile – whether used together or separately. Consult your dentist today to find out how they can improve your oral health.
About Elmbrook Family Dental, SC
Elmbrook Family Dental, SC is committed to improving the oral health of our patients. We offer the restorative services you need to save damaged teeth, including root canals and dental crowns. Contact our office today to schedule your consultation.