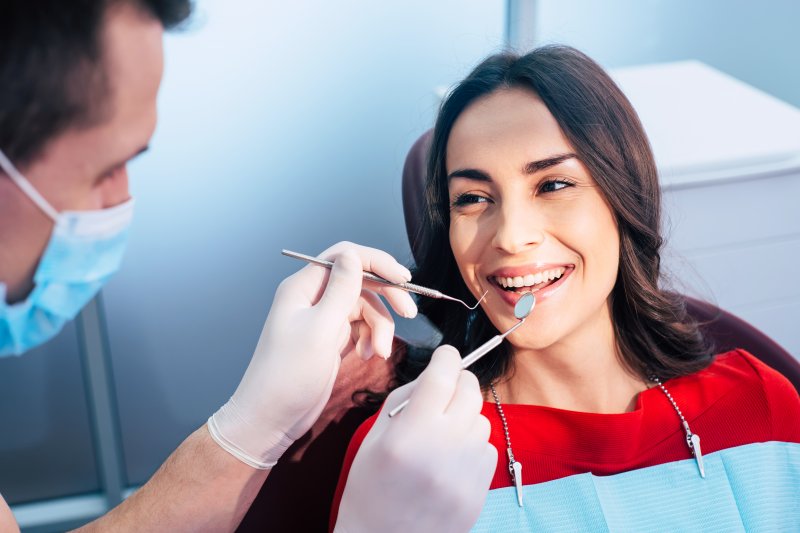 We've officially made it to 2022! If you're like most people, your New Year's resolutions probably revolve around improving your health. Even though they're usually related to weight loss or breaking bad habits, you should consider focusing on your oral health this year. After all, taking proper care of your teeth and gums can profoundly affect your overall quality of life! In addition to meeting your deductible as early as you can, here's why you should schedule your next dental checkup and cleaning early in the year.
Why You Should Schedule a Dental Checkup Early in the Year
Ideally, you should be visiting your dentist every six months for a dental checkup and cleaning. However, patients who use orthodontia or have conditions like gum disease will likely need more frequent office visits. If you can't remember the last time you had a routine checkup, you should schedule one as soon as possible. Not only will it make your dental care cost less in the long run, but you can lower your risk of severe complications. Plus, seeing your dentist on a regular basis will allow them to catch and treat problems early on. By keeping your mouth as healthy as can be, you can ensure your bodily health remains in good condition as well.
What to Expect During Your Checkup
Has it been a while since your last dental checkup? Here's what you can expect:
Questions About Medical History
During your appointment, your dentist will ask questions about your medical history to learn more about your oral health. They'll inquire about the current medications you're taking, your alcohol consumption, and whether or not you use tobacco products. Based on their findings, they'll have a solid grounding for building a treatment plan that works for you.
Physical Examination
Your dentist will thoroughly examine your teeth, gums, jaw, and facial structure. X-ray machines are often used during this step to help identify anything unusual that can't be seen with the naked eye. It's worth noting that patients have an extremely low risk of being exposed to damaging radiation from the X-rays.
Dental Cleaning
After a checkup, your dentist will perform a professional teeth cleaning. It's designed to clear any plaque and tartar that remains on your teeth. Once that step is done, your dentist will polish your teeth and make them shine like new!
Oral Cancer Screening
Since oral cancer cases have been rising in recent years, dentists have decided to add a screening to their dental exams. With early detection, oral cancer can be treated before it becomes a life-threatening disease. They'll check the areas around your jaw and the soft areas inside your mouth for signs of oral cancer.
Why not start 2022 on the right foot? By scheduling a dental checkup early in the year, you can ensure your smile is in its very best shape!
About the Practice
At Elmbrook Family Dental, we provide exceptional, state-of-the-art, individually tailored dental services guaranteed to exceed even your highest expectations. Our team will always go the extra mile to ensure you receive the best treatment possible. If you want to schedule your next dental checkup, visit our website or call our office!