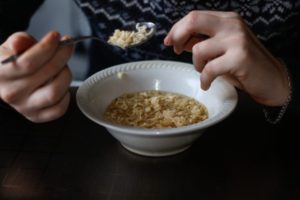 The pain from TMJ disorder, aka temporomandibular joint disorder, can be intense simply from the act of chewing, so it's important to be mindful of that when making food choices. Considering it is sometimes a multi-day ordeal, you want to do everything you can to get the necessary nutrition while also not exacerbating the situation. Keep reading as your dentist in Brookfield touches on foods to target and avoid, as well as how to prevent TMJ pain and how to get relief when it strikes.
Good Food Options with TMJ Disorder
Consider these foods to pursue a balanced diet as you try to minimize TMJ pain:
Fruit – Go for bananas, applesauce, soft pears, ripe melons, and canned fruits (packed in 100% fruit juice).
Vegetables – Peel the skin off any veggies. Choose cooked carrots, squash, peas, and asparagus.
Protein –Go for soft proteins like eggs, tofu, legumes, chicken, and fish.
Grains & Starches –Target mashed potatoes, pasta, couscous, polenta, oatmeal, and muffins.
Dairy – Look to cheese, yogurt, cottage cheese, ice cream, pudding, and dairy alternatives.
Spices – Turmeric and ginger are both powerful anti-inflammatory foods.
Bad Food Choices When Dealing with TMJ Pain
To minimize your jaw pain, steer clear of these items:
Steak or Beef Jerky – Any chewy or tough item is problematic.
Caramel or Gummy Candy – Also avoid gum.
Bagels or Other Chewy Baked Goods – Pass on crusty bread as well.
Whole Apples or Raw Carrots – any hard fruit or vegetable is not an option.
Hard Nuts or Seeds
Ice – Okay for your drinks but don't bite it.
Inflammatory Foods – If you consume sugar, refined carbs, fried foods, or trans fats, do so in moderation or you risk a flare-up of TMJ pain.
How to Prevent TMJ Pain
Beyond taking suggestions from the food list above, there are other things you can do daily to prevent painful flareups. Make sure you aren't clenching your jaw or grinding your teeth. If your jaw ever aches when you wake up, don't hesitate to see your dentist about potentially getting a customized mouthguard. Also, ask your dentist about TMJ exercises you can do to strengthen, stretch, and relax your jaw.
Seek Relief from TMJ Pain
If you've already passed the preventive stage and are dealing with pain, you have a few options:
Give yourself a facial massage of the jaw, cheeks, and temples.
Try using an ice pack on the area for 10-20 minutes to reduce swelling and pain.
Apply a moist, warm towel to the area for mild-to-moderate muscle pain.
Talk to your dentist about what methods do and don't seem to work for you.
You shouldn't have to live with constant TMJ pain. Do your best to make wise, healthy food decisions and find effective pain-relief methods. Your dentist in Brookfield is ready to help when you need them!
About the Practice
At Elmbrook Family Dental, we offer appointments in the early mornings and evenings for your convenience. From massage chairs to warm neck pillows, helping you be comfortable during your visit is very important to us. We have seven dentists on staff to perform an array of treatments at our two Brookfield locations. If TMJ disorder is taking a toll on you, we are the only facility in Wisconsin certified by the TMJ & Sleep Therapy Centre International! Whether the issue is jaw and neck pain, headaches and migraines, or you struggle with snoring and are always tired, we can help. Schedule an appointment on our website or call (262) 784-7201.