Last weekend I attended a blogging conference in New York City, called BlogHer. Networking alongside 4,999 other bloggers I was truly among my people. At the conference, lots of big name companies bring their products to show off and hand out to us bloggers so that we can try them out and tell our loyal readers all about them. One of the companies that was there had a product that I thought would be really good to write about here on our dental blog.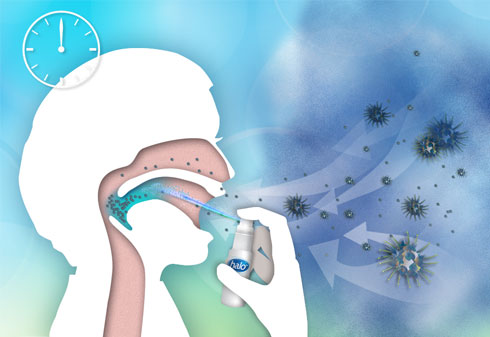 Oasis Consumer Healthcare already makes a product that we here in the dental world use and recommend to our patients, but they just came out with something new. The product is Halo Oral Antiseptic. Sounds strange, doesn't it? I thought so too, but I listened to and watched their demo and now I am excited to give it a try myself.
The idea behind Halo Oral Antiseptic is that it is a preventative measure to help stop the spread of sickness from infectious airborne diseases. Here is what Halo has to say about their product and its testing:
"Halo™ is the first scientifically and clinically proven product to kill the airborne germs you breathe in. How can we say that? Because Halo went through rigorous scientific testing and clinical trials at Case Western Medical Center, ranked one of the 2012 Top 25 Medical Research Centers by U.S. NEWS & WORLD REPORT."
Halo Oral Antiseptic comes in 3 flavors… citrus, berry, and grape for children. One of the things that the Halo representative told me that is really sticking with me is its preventative use in daycare settings. He said that some moms spray it in their children's mouth when they drop them off at daycare to help stop the spread of sicknesses that so easily pass from child to child. Since the product lasts for 6 hours, the coverage time takes care of most of the day! My kids are only in a day care setting 2 days a week and because each bottle has 35 doses, it will last me quite a while.
Does it really work: Check out this link for a video of it's germ fighting power and see for yourself.
The question you might be asking now is, is it safe?
"The active ingredient is cetylpyridinium chloride (CPC), an antiseptic that is well-known to kill bacteria and other microorganisms. CPC is completely safe and has been used commercially for years. In fact, it's one of the most common ingredients used in over-the-counter products, and can be found in products ranging from liquids to lotions."
Now for the exciting part… Halo gave me an extra bottle of their Oral Antiseptic to give away to one lucky reader! All you have to do is complete the mandatory entry on the Rafflecopter form below and you can earn additional entries by doing more things listed on the form.
Halo Oral Antiseptic retails for $12.99 per 35 dose bottle. You can buy your own bottle of Halo Oral Antiseptic at these places:
Wal-Mart
CVS
Rite-Aid
KMart
Target