I want to talk about a very serious issue today.  I'm writing this post before I leave for my vacation and scheduling it to be posted while I'm gone. It's likely at the moment this blog post is published, I'll be sitting on the beach in Ocean City, MD. When I was a teenager, I loved the sun. I have always thought that being tan equates with being beautiful and so my sunscreen application has always been minimal so that my tanning was maximal. Unfortunately being a very fair skinned blonde girl, this meant I suffered a lot of sunburns. This is not good. Did you know that one bad sunburn before the age of 18 doubles the chance of developing melanoma?
Warning: this video may make you cry.
Melanoma is the fastest growing cancer in the United States and worldwide. According to the Melanoma Research Foundation, "Melanoma primarily affects individuals in the prime years of life, is the most common form of cancer for young adults 25-29 years old and the second most common cancer in adolescents and young adults 15-29 years old." In fact, I recently lost a friend to melanoma. He was only 33. If you read the link, you'll see that he took all of the normal steps and precautions anyone would after having an abnormal mole removed. Except some people don't even get them checked out. Here is some info from the Melanoma Research Foundation about melanoma detection and screening:
Carefully examine your skin once a month. If you notice any changes, consult a dermatologist right away. If melanoma runs in your family, make sure all of your family members are checked regularly by a dermatologist once or twice a year. Protect yourself from UV radiation by practicing safe sun habits:
Avoid the sun during the peak hours (generally 10AM – 4PM)
Use sunscreen daily. Sunscreen should contain elements which block both UVA and UVB rays and should have an SPF of at least 30. Sunscreen should be reapplied every two hours and after sweating or swimming. Do not use a sunscreen to spend more time in the sun.
Wear protective clothing if you are going to be exposed to a lot of sun (or you are particularly sun sensitive). Wear a wide brimmed hat, long sleeved shirts/pants, and sunglasses.
Avoid tanning salons. Exposure to tanning salons increases your risk of melanoma.
If the risk of cancer isn't enough to keep you out of the damaging effects of the sun, how about beauty?
The New England Journal of Medicine recently posted about a man who developed unilateral dermatoheliosis, or thickening and wrinkling of the skin on one side of his face. This man was a truck driver who spent many years of his life with one side facing the sun. See the damage for yourself: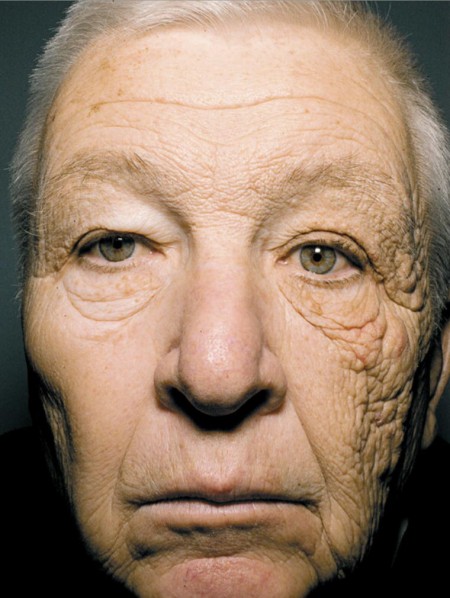 I don't know about you – but that's enough for me to put a hat on the next time I sit in the sun!
So, while you're out enjoying the beautiful summer weather, I encourage you to wear sunscreen, hats, sit in the shade, and do whatever else you can to avoid sun exposure.
Pale IS the new tan. Pale is beautiful. This is my new mantra. While I'm sitting at the beach next week under the umbrella slathered with sunscreen, I'll be daydreaming about how my youthful looks will last well into my older years because of the extra steps I am taking to protect my skin.