Another post on the more personal side of things! Lots of fun and exciting things are happening!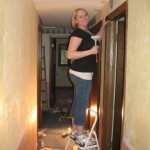 This month, Nikki and her husband Nick have purchased a beautiful new home! It was lacking the care and attention it needed, so they are in the middle of many detailed remodeling projects. New walls, new kitchen and new floors! They are spending all their extra time and energy after their already long work hours, learning all the tricks of the trade and making the place their own. We can't wait to see the final product and we are defiantly looking forward to the house warming party!
Over the weekend, Amanda and her boyfriend Mike got engaged! They spent a wonderful weekend together up north where he proposed at the end of the pier. Tentative wedding could be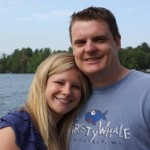 for May of 2010. She has also been admitted into the clinical program for Dental Hygiene at WCTC and will be starting there in August. Two full years of school and she will take her state board exams to become a registered Dental Hygienist! The long road will be well worth the work!