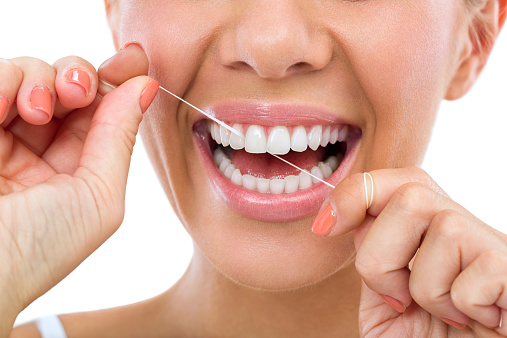 We understand that in the morning at the start of the day you're in a hurry to get out the door and at the end of the day when you're tired, you're in a hurry to get to bed. Nevertheless, a good oral hygiene routine is critically important to your oral health as well as your overall health. And while it may be tempting to save time and only brush your teeth, the benefits of flossing each night are very real.

When you brush and floss your teeth, you clean away plaque, that sticky film that naturally builds up in our mouths throughout the day. Hiding in plaque are active colonies of bacteria that cause tooth decay and gum disease. Brushing removes plaque from the inside, outside and top surfaces of teeth. But to remove plaque from in between your teeth and even below the gum line, you need to floss. The dentists at Elmbrook Family Dental in Brookfield, WI, want to make sure you are flossing correctly, so we'd like to offer the following tips to make your routine more beneficial.
First of all, tear off about 18 inches of floss. Wind each end around your middle fingers, leaving a couple of inches unwound. Grasp this portion between the thumbs and forefingers of each hand.
Where you begin flossing doesn't really matter all that much as long as you advance methodically around your mouth and floss in between each pair of teeth. Choose the spot where you'd like to begin and guide the floss in between your teeth. Move the floss back and forth and up and down. Press the floss against on tooth and then the other. Be sure to floss below the gum line, but take care not to press down too hard on delicate soft tissue.
As you progress around your mouth, use fresh sections of floss; release the floss that is wound around one of your middle fingers and take it up on the other. A thorough flossing shouldn't take more than a couple of minutes, time well spent for sake of your healthy smile and body.
Healthy Living with the Dentist Elmbrook, WI Relies On
Eliminating plaque from in between your teeth can help you avoid gingivitis, the early stage of gum disease, and periodontitis, the latter stage. Gingivitis is marked by red and swollen gums that may bleed when you brush, and periodontitis' symptoms include bad breath, deep gum tissue pockets, loose teeth and eventually tooth loss. Furthermore, the bacteria in plaque that cause gum disease have been linked to systemic conditions including heart disease, diabetes and respiratory illnesses. Thus, the importance of daily flossing cannot be overstated.
Call Our Office Today
If you would like to learn more about how you can improve your at-home oral hygiene routine, or if it's time to schedule a dental checkup with one of the dentists at Elmbrook Family Dental, then call and speak to one of our staff today. We serve patients in Elmbrook, WI, as well as Brookfield and the surround communities.