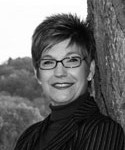 As many of you have known, our hygienist Joanne had been battling AML Leukemia. Today we are sad to announce that she has lost her battle. On the morning of October 14th, Joanne passed away at AngelsGrace Hospice in the presence of her family. Her battle with Leukemia began just over a year and a half ago and included many treatments, one of which was a bone marrow transplant from her son Patrick. Sadly the transplant was not a success and it became clear that her battle would be lost.  She was then moved to hospice care. She was sure to keep a positive attitude and enjoy every moment she had with her family.
Although the last year and a half did not allow Joanne to work, over 10 years with our team made it easy for the staff to keep in touch. We still enjoyed her company at team gatherings and missed her bold personality, infectious laugh and awesome bakery around the office! She was always honest with  her patients and their needs. She was meticulous and detailed in her cleanings and exams. She enjoyed getting to know more about each and every one of her patients. We are confident that if she were here and still working hard for all of you, that she would want to remind you to floss every day! After all, you are the only one responsible for YOU!
Carrie G. was able to visit her the week before she passed. Joanne shared some comforting words for those she was leaving behind. She said: "I don't know why everyone is so sad. I am going to a better place."
Joanne: Indeed we know that you are now in the arms of your Lord and no longer suffering. You will be forever in our hearts and we will not forget you. Thank you for your great hard work while you were a part of our team. Thank you for being a great friend to all of us. Don't worry, we will keep taking great care of your patients for you. We love you and miss you.
A memorial gathering will take place at the Brookfield Krause funeral home this Sunday, October 18th from 1-4pm. In lieu of flowers, the family is accepting donations for AngelsGrace Hospice as well as the Leukemia and Lymphoma society. And because we don't want others in the future to suffer from AML or other forms of Leukemia, Elmbrook will be hosting a pretty awesome fund raiser in Joanne's name during the month of November. Stay tuned for details!