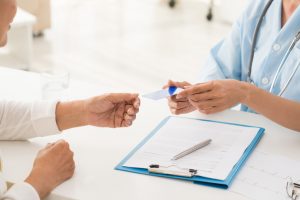 You and your sweetheart rang in the New Year in 2016 with a bang. You got tickets to Rock the Burbs at the Waukesha Expo Center. As the ball dropped and the music played on, you made a New Year's resolution to be committed to your dental health, to floss more, and to see a dentist who takes your insurance for an exam and cleaning. But 2016 flew by without that visit. How is it 2017 already? Well, now that it is, you have the chance to make good on your resolution and give your teeth the attention they deserve with the renewal of your dental benefits. You have Scion Dental insurance, but what dentist in Waukesha takes this insurance? The team at Elmbrook Family Dental does, and they can see you right away.
What Types Of Dental Insurance Does Elmbrook Family Dental Accept?
At Elmbrook Family Dental, you won't have to worry if the team accepts your insurance. Currently, the dentists accept 14 different types of insurance. If you don't see your current company on the list, don't worry – they may still be able to work with your dental insurance company to provide you the top-notch dental care you deserve. Have a look at this up-to-date list to see where you stand:
Aetna
Anthem
Assurant
Blue Cross Blue Shield
Careington
Delta Dental
Dental Benefit Providers
Dental Health Alliance
Guardian
Humana
Premier Dental Group
Principal Financial Group
Scion Dental
United Healthcare
Great – Elmbrook Family Dental Takes My Insurance! What Will It Cover?
For most patients, preventive and diagnostic dental services like checkups, cleanings, and X-rays are covered 100%. For other basic dental services, like fillings and root canals, dental insurance generally covers 80% of the cost. For major procedures, like bridges and crowns, patients can usually expect their insurance to cover 50% of the costs. While there are certainly plenty of insurance plans that cover more or less than the amounts we mention, most plans follow the "100-80-50" rule. You can be sure by giving a call to your insurance company and asking them about your coverage for preventive, basic, and major services. Or, talk with the team at Elmbrook Family Dental – they'll be happy to speak with your dental insurance company and break down the details for you!
So, what are you waiting for? Isn't it time that you made your 2016 New Year's resolution come true in 2017? If you're in Waukesha, schedule your appointment today with Elmbrook Family Dental, winner of the 2016 Top Choice Award for the Best of Greater Milwaukee for dental services.