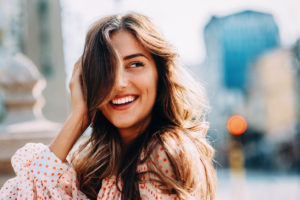 When you're looking for a dentist there are a few things that you must consider.  Is my dentist convenient? Does my dentist care about my comfort and wellbeing? And most importantly, does my dentist take my insurance? Finding a great dentist in the greater Milwaukee area is now easier than ever. It's a no-brainer! Elmbrook Family Dental has a dentist in Pewaukee that is ready to treat you with award-winning dental services that are worth the drive. The Milwaukee Journal Sentinel named our dental office the Best Dental Office in the Greater Milwaukee Area for 2016, and we're ready to show how our convenient office cares about you and makes our services affordable for every patient.
One-Stop Convenient Office
If you've never stepped foot into an office that offers truly comprehensive services, you need to visit our office as soon as you can! Our doctors and dental team create each dental experience catered to each patient. If you need general preventive care to keep your teeth straight and healthy, we have it. Does a family member struggle with smiling because of their flawed smile? Bring them in to visit our friendly dentists for cosmetic help. Has someone you know lost multiple teeth in a dental accident? We restore your smile functionally and aesthetically! Not only are we highly-trained, but we're passionate about keeping you and your family's smiles healthy, stable, and beautiful all under one roof.
We Care About Your Comfort
Elmbrook Family Dental cares about how you feel during your dental appointments. We want you and your family members to feel completely comfortable and relaxed so you can receive the dental treatments you need. Our office is equipped with state-of-the-art technology (like soft tissue lasers and Spectra cavity detection technology) and materials, making it easy to provide exceptional dental care. The office environment is completely inviting as well. You can even tour our office online before scheduling your first appointment!
Payments Aren't a Problem
One of our dental missions is to make dental care affordable for everyone. For this reason, we have developed various financial options that cater to a variety of patient's budgets. Besides accepting traditional insurance plans, we offer discount options for full payments and external financing options with approved credit. With an 8% discount for full payments at the time of service and 10% discounts for prepaid treatments during scheduling, you can save money often by visiting our office. We also offer 10% discounts for our senior patients for full payments at the time of service and a whopping 12% off prepaid treatments! To get more details about your potential payment options, visit our financial information page.
Visit Elmbrook Family Dental
Although our office is near Pewaukee, the short drive is well worth it. We have four great comprehensive dentists that are committed to serving the greater area of Milwaukee with excellent dental care. We can't wait to meet our next patients! Call our office today to schedule your next appointment.