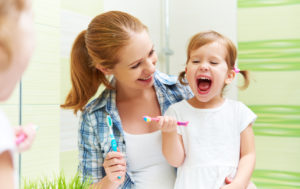 Your child's baby teeth are important to speech, nutrition and facial structure. They ensure the proper alignment of those permanent teeth. Your dentist in Pewaukee at Elmbrook Family Dental asks parents to bring children in for their first get-acquainted visits when that first tooth erupts and by age three for regular preventive care. Learn what happens at a child's first dental visit and what services are available for little smiles.
Your Child's Baby Teeth
A baby's bottom central incisors typically erupt between the ages of six and eight months. Other teeth follow in rapid succession. To care for these new teeth,  Mom or Dad should wipe little mouths with a washcloth or 4×4 gauze after each feeding or meal and then brush the teeth with a small smear of non-fluoridated toothpaste beginning at one year. Supervised brushing and flossing continues until a child has the dexterity to brush and floss independently.
Parents, baby teeth help a child eat and speak properly. Also, they ensure proper tooth alignment, avoiding costly restorative treatments and orthodontics.
As such, Dr. Brandon Brunner, his associate dentists and their support staff at Elmbrook Family Dental anticipate seeing your children for their visits. The first time in the dental chair at our friendly practice helps little ones understand that going to the dentist is a good experience.
During an exam for babies and toddlers, the dentist checks the mouth for proper development and evidence of decay; he or she also counts the teeth. Parents receive instruction on oral hygiene, good nutrition and "baby bottle decay"–a threat to young teeth when milk or juice collects at the gumline with a bedtime bottle feeding.
As a child grows, dental appointments expand to include digital X-rays at proper intervals and FDA-approved Spectra cavity detection for small, hidden cavities. The dental hygienist gently scales teeth to remove plaque and tartar from tooth surfaces and interdental spaces. An individualized care plan includes restorations (fillings, for instance) as needed and in-office fluoride treatments and dental sealants to strengthen and protect tooth enamel.
Parents, at Elmbrook Family Dental, we stress the importance of immediate care for pressing oral health problems such as toothaches, lost restorations or knocked out or cracked teeth. Please contact the office immediately if a dental emergency arises with one of your children. We will provide quick and compassionate advice and get you into the office as soon as possible.
Dental Care is Important Care
The American Academy of Pediatric Dentistry urges parents to prioritize their children's oral health. Incidence of dental decay escalates when youngsters don't see their dentists, but with six-month cleanings and exams, young smiles flourish.
If your child has started getting his or her first teeth, contact Elmbrook Family Dental for a convenient appointment.  You can look forward to years of great smiles!