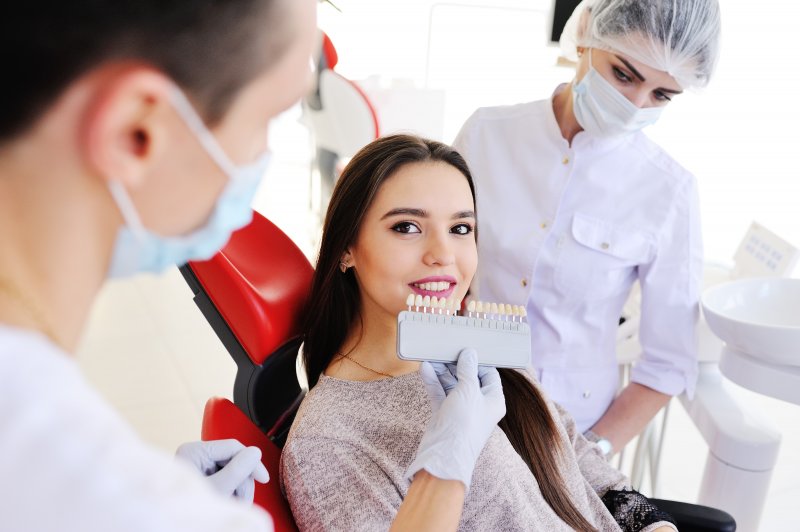 Are your teeth slightly crooked? Do you have a minor misalignment that is causing embarrassment and keeping you from embracing new opportunities? While it might seem that the only option is to pursue traditional braces and spend the next two to three years watching your teeth move into their correct position, there is another solution. Known as "instant orthodontics," veneers can easily improve the look of your smile without investing the same amount of time as regular braces. Read on to learn more about how these customized restorations can transform your appearance in only two appointments.
How Can Veneers Straighten Misaligned Teeth?
Veneers are thin sheaths of porcelain (or ceramic) that are custom-made to fit over a person's tooth enamel. Capable of covering minor misalignments, they earned the nickname "instant orthodontics" simply because they allow patients the opportunity to embrace a new and improved look by concealing flaws.
When meeting with your dentist to discuss viable treatment for your misaligned teeth, it's normal to assume that traditional orthodontics will be recommended. However, if the problem is more of an aesthetic issue and will not negatively impact your oral health, there's a good chance you'll be recommended for veneers instead.
Your dentist will only need to remove a small bit of tooth enamel from each tooth receiving treatment. After taking impressions of your teeth, they will be sent to a dental lab where technicians will create your customized veneers. After a few weeks, your cosmetic dental expert will use a bonding agent to adhere the new restorations to the front surface of your natural teeth, effectively hiding any misalignment that is causing embarrassment.
The Benefits of Instant Orthodontics vs. Traditional Braces
While there are benefits to using traditional braces to improve the overall look and health of your smile, they do require more of your time. Metal orthodontics and clear aligner systems don't produce results overnight, but if you want a quicker solution, you will find that veneers offer many great benefits, such as:
The ability to avoid bulky metal wires and brackets that can irritate soft tissues and compromise your daily appearance
The opportunity to eat more of the foods you love instead of being restricted due to traditional orthodontics
The reality of completing treatment in only two dental appointments instead of two to three years
Veneers are a highly versatile cosmetic solution that can easily address all types of flaws and imperfections. If minor misalignment is keeping you from looking your best, don't hesitate to talk to your dentist about instant orthodontics.
About the Practice
Elmbrook Family Dental is here to provide the comprehensive care you and your loved ones deserve. If minor cosmetic issues are causing you to feel self-conscious about your appearance, let us talk to you about the possibility of veneers. Our team has extensive experience and training when it comes to applying customized restorations to teeth to hide minor misalignments and other cosmetic issues. Visit our website to learn how easy it can be to transform your smile in only two appointments.