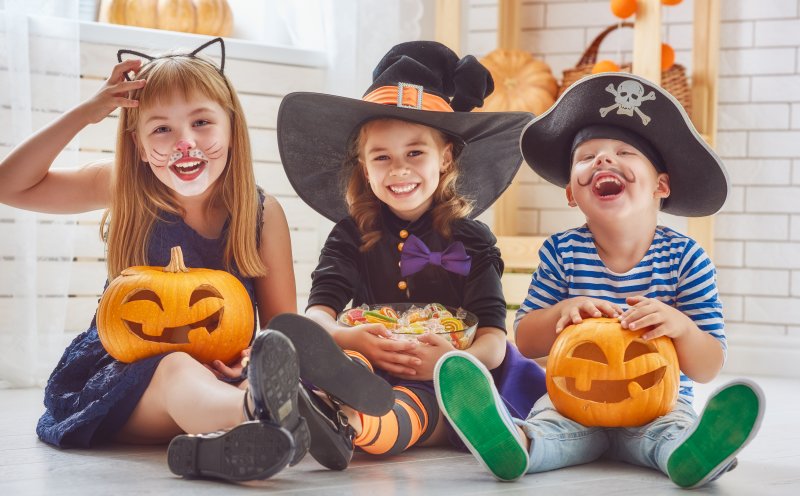 It's that time of year again! Halloween is right around the corner, and if you and your kids are like most, dressing up in costumes and parading from house to house looking for sweet treats is an event you cannot miss. However, too much of a "good" thing can ultimately lead to unhealthy smiles and upset tummies. To avoid the potential for sugar overload this time of year, here are three tips to help you and your kids maintain optimal oral health even while enjoying a few pieces of your favorite Halloween candy.
Choose Chocolate
While you may not be able to keep those passing out candy from throwing in gummy or sticky treats, you can tell your kids they can indulge in a few pieces of chocolate when the night is through. Hard, sour, and sticky candies can remain on teeth for longer and are difficult to remove. The longer it sits on the tooth enamel, the greater the risk for bacteria and harmful acids to begin eating away at this outermost layer. Chocolate, however, is much easier to rinse away. If you and your kids prefer dark chocolate, this is even better news because it doesn't contain as much sugar!
Let Your Child Pick Their Favorites
Because your child is likely to return home with an overabundance of candy that will sit around for weeks and months, there is a solution to keep everyone from snacking. Let your kids pick out their favorite sweet treats and have them donate the rest. There are plenty of programs available that send care packages to military men and women that contain Halloween candy. This is a great way to not only let your kids have their fun but to also teach them about giving back and providing a special surprise for those who are in uniform.
Practice Good Oral Hygiene Before Going to Bed
Once you and your children are ready for bed after a fun-filled night of trick-or-treating, it's important that you make sure everyone completes their nightly oral hygiene routine. Brushing for two minutes with fluoride toothpaste, flossing in between teeth, and rinsing with an ADA-approved mouthwash (for those old enough) is essential. This helps to remove any bad bacteria and acids that will try to burrow into the pits and crevices of teeth and ensure you and your children's smiles are better protected throughout the night.
Don't let cavities and tooth decay haunt you this Halloween. Embrace your silly costumes and fun with friends and family by making smart choices and taking better care of your smile.
About the Practice
Elmbrook Family Dental is committed to treating smiles of all types. Offering exceptional care and personalized service, our team of dentists is available to provide the solutions you and your family need for optimal oral health. Visit our website to learn which tips can help you and your loved ones avoid dental decay and cavities this Halloween.