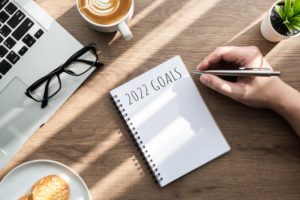 What are your hopes and goals for 2022? Many people are aiming to lose weight, move forward in their career, or spend more time with friends and family. All of those are worthwhile endeavors. But have you thought about giving some extra attention to your smile in the new year? Let's talk about four New Year's resolutions that can help you improve your oral health.
Floss Daily
One study found that only 41% of Americans floss daily, while a whopping 20% never floss. If your flossing habits are inconsistent or nonexistent, now is the time to make adjustments. When you floss, you clean the parts of your teeth that your toothbrush cannot reach. You thereby decrease your risk of cavities, gum disease, and bad breath. Try making it a habit to floss every night before you brush your teeth.
Visit Your Dentist
The standard recommendation is that everyone should visit their dentist for preventive care twice a year. These appointments can save you money on future restorative treatment, keep your smile fresh and attractive, and help you establish a trusting relationship with your dentist. Try to schedule a cleaning and checkup for early in 2022, and you can return in the summer for your second appointment.
Adjust Your Diet
When sugar interacts with bacteria in the mouth, plaque forms on the teeth. The bacteria in plaque produce acids that wear away at the enamel and lead to cavities. Therefore, one of the best ways to prevent dental decay is by cutting back on sugar. You can start small, perhaps by replacing soda with plain water or by limiting dessert to just once or twice a week.
Other dietary changes can also benefit your teeth. For example, getting plenty of tooth-friendly minerals, like calcium and phosphorous, is important. Additionally, limiting your intake of acidic foods and beverages (like sports drinks) is highly recommended.
Quit Smoking
Smoking contributes to a slew of dental problems, including dry mouth, gum disease, bad breath, and more. It is even the biggest risk factor for oral cancer. Every effort you make to quit will be well worth it! Your primary care practitioner may be able to offer suggestions to help you design your personal "quit plan." If your initial efforts to kick the habit prove to be unsuccessful, don't give up! With persistence and commitment, you can say goodbye to cigarettes forever.
A healthy smile is one of the best assets you could have. Protect your teeth and gums in 2022 by setting reasonable goals like the ones suggested in this article. You will spare yourself from pain, save money, and enjoy a sense of accomplishment.
Meet the Practice
The large team of dentists at Elmbrook Family Dental are proud to provide a full range of services, including preventive care, restorative treatments, and more. They are pleased to be welcoming new patients in 2022, and they would love to meet your family! To learn more about our practice and how we may be able to serve you, contact us at 262-784-7201.