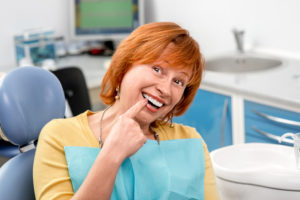 It just might! If you're unhappy with a smile that looks yellow, teeth that look short, or enamel that appears gray, your smile may be aging you. However, there are many ways to prevent dental damage, improve the look of your smile and maintain a healthy, youthful appearance. In fact, it may be a lot easier than you think to look as much as ten years younger. Most importantly, you'll feel the confidence to smile and speak in any personal or professional situation.

What Makes Your Teeth Look Older
There are many reasons your smile can reveal your age. One of the most common things that happens as we grow older is that tooth enamel begins to wear from daily use. As the healthy, white tooth enamel becomes thinner, the yellow dentin layer of the tooth is revealed, so the older you get, the more yellowed your smile will appear. Additionally, teeth will wear down and look shorter over time for many people. Finally, regular smoking or consumption of acidic foods and drinks can lead to teeth that have a gray or dingy coloring.
How to Keep Your Youthful Smile
As is the case in most areas of dentistry, prevention is the key to having a beautiful smile. Some of the things you can do to improve your smile's appearance include:
Cutting back on sugar and snacking. High sugar foods and snacking between meals exposes your tooth enamel to higher levels of erosion each day leading to a more yellowed smile at a younger age.

Reducing intake of staining foods and drinks. Remember anything that would stain a white shirt will stain your teeth. Limiting your smile's exposure to these staining foods and drinks can keep them pearly white for longer.

Care for your teeth and gums with daily brushing and flossing and regular dental checkups. This may seem like a given, but it's actually the most important aspect of any plan to improve the appearance of your smile. Plaque buildup not only wears away at tooth enamel, but it also causes gum inflammation, chronic bad breath, and even tooth loss.
How to Transform Your Smile
If your smile already looks older than it should, a cosmetic dentist can help. In some cases, looking half your age is as simple as completing one in-office teeth whitening session. For other patients, a more complex smile makeover plan may be necessary. These personalized treatment plans may include any combination of cosmetic and restorative dentistry services to deliver the desired smile. Following your smile makeover, the dentist will work with you to establish a customized plan for ongoing preventive maintenance to keep your smile flawless.
Meet the Elmbrook Family Dental Team
At Elmbrook Family Dental, we are passionate about helping our patients achieve and maintain their healthiest smiles. If you cover your mouth when you speak, hide your smile, or don't smile at all because you're embarrassed, it's time to contact our Brookfield dental team to schedule your cosmetic dentistry consultation. We'll partner with you to achieve your desired smile. Then, we'll work with you one on one to keep the flawless, healthy smile of your dreams.lth