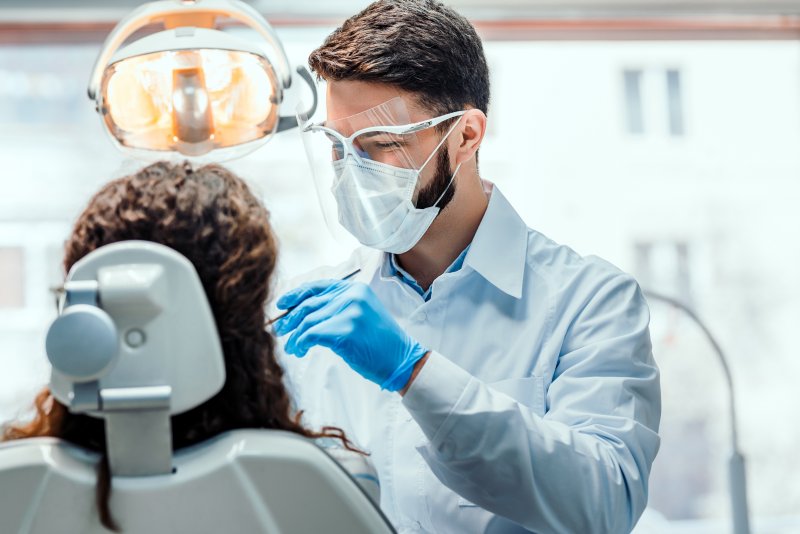 Nearly nine months ago, our lives were forever changed as the novel COVID-19 virus spread into a global pandemic. As we've been adapting to practicing social distancing and wearing face masks daily, researchers have been extensively studying the intricacies of the virus and those it has affected, providing us with valuable insight. For example, a recent survey conducted by the American Dental Association found that less than 1% of dentists nationwide have tested positive for COVID-19 (which is significantly less than other healthcare professionals). Here are a few safety protocols that your dentist has implemented that make that impressive statistic possible.
#1. Advanced Staff Training
Long before 2020, dental teams followed extensive sanitation and safety measures put forth by organizations like the Centers for Disease Control and Prevention (CDC) and the Occupational Health and Safety Administration (OSHA). However, amid the current pandemic, dental teams are undergoing additional training to enhance their awareness and preparedness. That way, they can provide themselves and their patients with the highest level of protection.
#2. Social Distancing Measures
At the start of COVID-19, the CDC estimated that social distancing measures prevented up to 185,000 deaths. With this in mind, your dentist has redesigned their daily operations to make maintaining a 6-foot distance a practical reality. A few of these new protocols include:
Contactless greetings
Virtual waiting rooms
Sequenced patient scheduling
One-way signs to direct foot traffic
#3. Extensive Sanitation Practices
Fortunately, a large portion of your dentist's formal and continuing education is centered around proper sanitation. Therefore, your dental team has a distinct advantage in creating a clean, virtually germ-free environment. Below are a few sanitation practices you can expect at your appointment:
Asking patients to use a hospital-grade hand sanitizing station before entering the office
Cleaning surfaces after every appointment
Deep cleaning each evening
Using CDC-approved instrument sterilization
Utilizing a HEPA air filtration system
#4. Additional Personal Protective Equipment
Although wearing a face mask may be new to you, it certainly isn't a new practice for your dental team. For years, they have been wearing medical-grade masks during everything from routine cleanings to extensive oral surgery. That being said, you can expect to see them in additional personal protective equipment, like face shields, disposable coats, and even shoe coverings!
As the world continues to battle COVID-19, it's important to be as vigilant as ever about keeping yourself safe. However, since your oral health directly impacts your general health, it's crucial not to put off your dental care. Fortunately, you can get the treatment you need without sacrificing your safety since your dentist has implemented the above safety measures.
About the Practice
At Elmbrook Family Dental, patients of all ages can enjoy a comprehensive array of services, convenient appointment options, a comfortable atmosphere, and a phenomenal team dedicated to exceeding expectations. Over the past year, their entire staff has gone above and beyond to ensure every facet of their practice allows patients to achieve the world-class dental care they deserve safely. To learn more about protocols they have implemented in light of the current pandemic, visit their website.