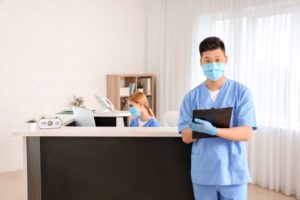 Just this month, dental offices across the country have started reopening their doors so patients can continue their preventive, cosmetic, and restorative care. However, due to the emergence of COVID-19, they changed up their daily sanitation and disinfection practices to ensure patient and staff safety. If you have an upcoming checkup and cleaning, here's what you can expect at your appointment.
Scheduling Your Appointment
When you contact your dentist in Brookfield to schedule your appointment, keep in mind that their new office hours may be limited and they could have restricted appointment times. Many people are rushing to schedule their checkup and cleaning after quarantine, so it's a good idea to schedule your visit sooner rather than later. When you call, the administrator will conduct an over-the-phone screening to ensure that you or any of the people you live with haven't been experiencing any common symptoms associated with COVID-19.
During your call to schedule your visit, your dental office will also inform you of what you need to do when you arrive to the office, such as wear a mask and check-in from your vehicle to minimize waiting room traffic.
During Your Visit
You will need to wear a mask into the building at the request of your dental office, so be sure to have one on. Once you arrive, check-in from your car and wait outside until the team is ready to treat you. Before taking you back to the treatment room, they will take your no-touch temperature to ensure that you're not running a low-grade fever, which is one of the most common symptoms of COVID-19. You'll likely notice that all of the magazines have been taken out of the waiting area and that a few chairs have been taken out of the area to promote social distancing.
Once you arrive back to the treatment room, you'll notice that all staff are wearing protective face masks, gloves, and safety eyewear to reduce the spread of droplets. Your dentist will be wearing all personal protective equipment, since they will be working directly in your mouth. These additional precautions will significantly reduce the risk of contracting or spreading the virus.
Disinfection & Sanitation Measures Between Patients
Your dentist in Brookfield has staggered their appointment schedule to allow for plenty of time to thoroughly disinfect and sanitize treatment areas, dental instruments, and waiting rooms before each new patient arrives. This will help prevent touch contamination and ensure that every part of the office is sterilized for each patient.
With these new precautionary measures that your dentist is taking for your safety, you can rest assured that visiting their office for a checkup and cleaning is as safe as ever. That way, you can have peace of mind that your wellbeing and mouth are being taken care of!
About the Practice
At Elmbrook Family Dental, we offer the care and expertise of six highly experienced dentists. That way, no matter what oral health problem you face, we have a skilled specialist that can provide you with the highest quality of treatment. Our team is proudly reopening our practice while implementing 20 additional new safety protocols for our patients' safety. For questions or to schedule an appointment, be sure to visit our website or call 262-784-7201.