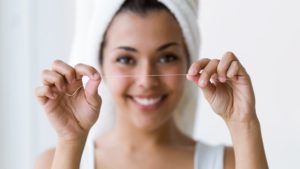 Invisalign is one of the hottest cosmetic treatment options available! These clear aligners have taken the world of dentistry by storm, and more patients than ever before are turning towards them to straighten their teeth, correct bite problems, and give them a smile that they feel proud to show off. However, the success of the aligners depends on a few things—including your willingness to practice good oral hygiene. And this means brushing and flossing! Here's more from your dentist about the latter and why it's extra-important during your Invisalign treatment, along with some tips to help you do it correctly.
The Importance of Flossing during Invisalign Treatment
It's important to note that flossing is essential regardless of whether or not you're undergoing Invisalign treatment! That said, data from the American Dental Association indicates that only about 50.5% of Americans floss everyday—like they're supposed to—and just less than 20% don't even floss at all! This information is alarming, especially considering that daily flossing can effectively mitigate several oral health issues, such as gum disease and tooth decay.
And flossing regularly is even more important if you have Invisalign. When you cover your teeth with an Invisalign retainer for 22 hours each day, you're actually creating a prime environment for bacteria to thrive and accumulate on your teeth, worsening your risk of potential problems. Not only that, but this resulting scenario can also cause your Invisalign aligners to become stained, smelly, and unpleasant to wear!
Helpful Tips for Flossing with Invisalign
Flossing with Invisalign is not needlessly complicated or challenging at all; by following these tips, you should be able to manage it:
Remove your Invisalign aligners and store them in their carrying case—you cannot effectively floss if you're wearing them. But more importantly, this will prevent the aligners from becoming damaged or lost while you're flossing.
You should brush your teeth with a soft-bristled toothbrush and rinse your mouth with water prior to flossing to help break additional food particles loose.
You can use traditional dental floss, dental floss picks, or even a Waterpik to floss your pearly whites. If using traditional floss, remove a long strand (about 18cm) and wrap the ends around your fingers, leaving a few inches to work with. Then glide the floss between your teeth and slowly up towards the gum line. Work the floss by creating a "C" shape and using an up-and-down motion. Do this until you've flossed between all of your teeth.
You can resume wearing your aligners after you've flossed. Flossing at least once a day is recommended to prevent tooth decay and gum disease. However, you should be sure to at least brush after every meal throughout your treatment.
It might not be the most exciting thing in the world, but flossing plays a crucial role in protecting your smile from the likes of serious health issues—especially if you're undergoing Invisalign treatment!
About the Practice
Elmbrook Family Dental proudly serves the dental needs of the Brookfield, WI community under the leadership of several skilled specialists, each with a wide range of experience. The practice is pleased to offer many available services including cosmetic options like Invisalign. If you have any questions about Invisalign or would like to arrange an appointment, feel free to reach out online or over the phone for assistance: (262) 784-7201.