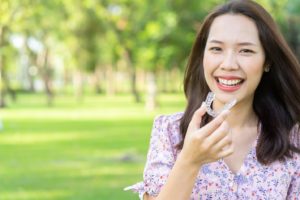 If you've just begun Invisalign treatment to correct your crooked teeth, congratulations! A straighter and healthier smile is in your near future—as long as you're diligent about wearing your aligners for 22 hours every day! However, this is often easier said than done; especially considering the challenges that some patients encounter whenever it's time to remove their trays. Here are five helpful tips to ensure that you're removing your aligners properly without compromising your treatment.
Tip #1: Stay Calm
There's no reason to stress out about removing your aligners whenever it's time to eat—you won't be a master right off the bat and it'll take some practice to become accustomed to it! That said, if you're having trouble at first, it's important to relax and stay calm. You won't have better luck if you're tensed up and stressed out, plus you'll increase the likelihood of you injuring yourself by accident. If you're ever starting to feel frustrated or flustered, simply pause, take a deep breath, and then try again. There's no need to rush!
Tip #2: Keep Your Mouth Warm
You'll have an easier time removing your aligners if you're mindful of the temperature of your mouth. If your mouth is warm, the plastic of your aligners will feel more flexible and easier to manipulate, making them infinitely simpler to remove! Consider drinking lukewarm water to warm up your mouth before popping out your aligners, and also make sure your fingers are warm and dry.
Tip #3: Start from the Back
You might be tempted to remove your aligners starting from the front, but you should opt to start from your back teeth instead. Starting from the back greatly minimizes the risk of injury or damage to your aligners. Lift the aligners off of your molars on each side, gradually working your way towards the front teeth. You can also start with one side and work your way towards the other—find a method that works for you but be gentle and mindful of where you're starting.
Tip #4: Advance to New Trays in the Evening
Invisalign works by gradually shifting your teeth into a corrected position over the course of a few months. You'll occasionally have to advance to a new set of aligners to match your teeth's progress—usually every 2 or so weeks. There are two huge advantages to doing this before bedtime; not only will you sleep through the stage where they feel the tightest, but you'll also have an easier time removing them in the morning when it's time to eat and brush your teeth.
Tip #5: Consider Using an Aligner Hook
There are some special tools that can assist you with removing your aligners. Pul Tools and OrthoKeys are two popular options that are widely available through retailers like Amazon. They're basically small crochet hooks that are designed for your mouth; they can gently hook under the edge of your aligners and safely lift them from your teeth with no mess or hassle.
Invisalign is an exciting way to enhance your pearly whites—but you must be sure to wear your aligners often and handle them correctly. In doing so, your trays will be able to deliver your beautiful new smile right on schedule.
About the Practice
The team at Elmbrook Family Dental is dedicated to providing an exceptional level of dental care for patients and families in the Brookfield, WI area. The practice is pleased to offer a wide range of available services including Invisalign. If you have any questions about Invisalign or would like to schedule a visit, you can contact the practice online or by phone: (262) 784-7201.