If you have followed us on our blog or our facebook page, it is no news to you that we LOVE celebrating great things around this office! This month we celebrated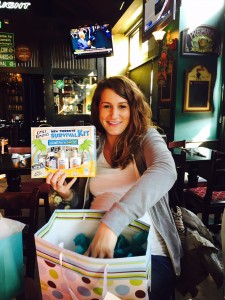 birthdays of 3 staff members. We also celebrated a baby shower for our Assistant April.
Our assistant Mindy celebrated her birthday on 03/12. She was able to take the day off and spend some time with her husband Cory and enjoy some fantastic food at Cafe Hollander.
Our front desk member Wendy celebrated on 03/15. She spent some time in beautiful Galena IL with her fiance John enjoying some great food, gambling and shopping.
Our hygienist Ashley also celebrated her birthday on 03/19. She and her husband Barry spent some time at Ho-Chunk gambling and relaxing. They were also able to head to the outlet mall and get some shopping time in.
Our assisting team member April had a special baby shower at Mo's Irish Pub on 03/15th. She received some awesome gifts for her baby boy. The staff got her some great baby outfits, a gift card and other important baby necessities. The doctors got her a car seat. We can't wait to share pictures of her new little bundle of joy (he arrived just last night!).