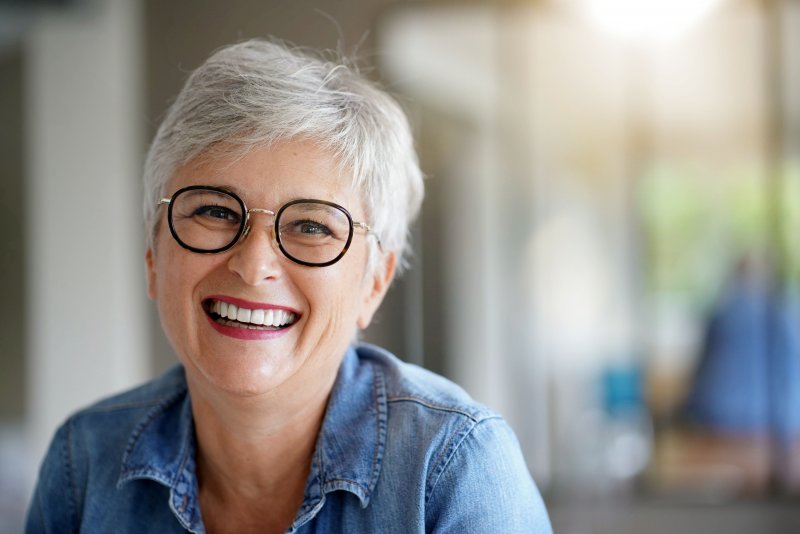 Did you know that the number of dental implant cases is increasing by 500,000 each year? Millions of Americans are already living with and enjoying these permanent prosthetics that have a 95% initial placement success rate. But what about traditional crowns, bridges, and dentures? What are the facts behind dental implant success? What makes them so popular among individuals suffering from tooth loss? Here are three reasons you may not have considered.
Dental Implants Are Permanent
Unlike traditional prosthetics that require frequent adjustments and replacements, dental implants are designed to remain in place for 30+ years. Some cases even show that these titanium posts can last a lifetime.
Because of their surgical placement within the jawbone, it requires the bone and posts to fuse through a process of osseointegration. This is vastly different than regular crowns, bridges, or dentures, as these either cover a vulnerable tooth or simply rest on top of the gums, offering no stimulation to the bone. Dental implants can withstand regular wear and tear much better than traditional restorations and prosthetics, making them one of the most popular reasons patients choose this type of treatment.
Dental Implants Are Placed Using Advanced Dental Technology
Not all dentists use modern technology to place dental implants; however, the trend of incorporating more innovative solutions to help with the treatment planning and placement process is becoming more popular. Many practices now use what is referred to as a CBCT scanner or a cone beam imaging system. This captures a 360-degree scan of your oral and facial structures, taking hundreds of photos and compiling them into one three-dimensional model.
Dentists can then take the model and create a thorough and precise treatment plan that maps out where the implants will be placed. As a result, this helps to minimize the possibility of complications or prolonged surgery.
Dental Implants Are Placed by Skilled Professionals
Entrusting your smile to a skilled dental implant specialist is one of the best decisions you can make because of the assurance you'll have in knowing your new teeth will remain firmly in place for decades or longer. Undergoing advanced training is essential for professionals who prefer to keep dental implant placement and restoration in-house, which is why you'll often find dentists who will take the time to pursue this type of training or those who prefer to refer their patients out to another specialist in the area.
With such a high success rate, it is now easier than ever to see why so many are turning to dental implants as opposed to alternative tooth replacement solutions. If you're interested in learning more, reach out to your dentist to inquire about a consultation.
About the Practice
Elmbrook Family Dental is here to provide the comprehensive care you and your loved ones deserve. If you're tired of living without a full mouth of teeth, it's time to consider how we can help you take your smile to the next level with dental implants. As the gold standard for tooth replacement, our dental team can give you natural and functional prosthetics that change the way you live your life day to day. Visit our website to learn how easy it can be to transform your smile with dental implants.